In January of 2013 we purchased our home in Pine Island, MN. We loved the town and the neighborhood very much, and though the home needed a little TLC, we had such a good feeling when we walked through it. It was January when we closed keep in mind, so the landscaping was un-known to us.

After a year of project after project on the interior including floors, paint on every single wall, scraping and painting ceilings, replacing doors, removing a wall and then adding on a deck it was time to assess the landscaping. We had a problem.
You can't tell by this picture, but there is in fact another window beneath the one you can see! It kept our basement as dark as a cave even on the brightest days. We did like the idea of these bushes, but they were so overgrown that it was impossible to save them. I tried slowly trimming them back, but all it did was exposed the dead inners and looked awful. Yet another surprise was the choking Pine tree that was completely engulfed in the large bush on the right side... We knew this was going to be a BIG job, but we had no choice but to yank these all out and start over.
| | |
| --- | --- |
| I quickly realized that pulling this things out is not going to be easy and digging them out was flat out impossible. Luckily we were able to use our engine hoist. My daughter got a pretty good kick out of this and I'll admit I enjoyed it, too! | |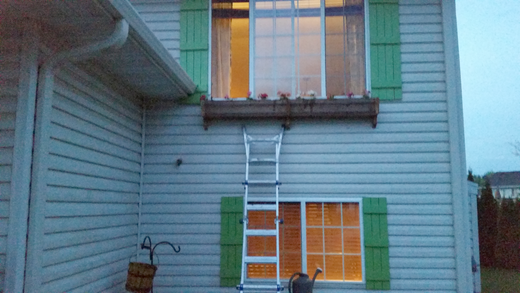 HEY, THERE ARE TWO WINDOWS ON THE FRONT OF THIS HOUSE!

I built this window box to make my wife happy (she's always wanted one) and I have to say I absolutely love how it makes our home feel. It was pretty simple to make and much cheaper than going to a store and buying a vinyl one. Treated wood and steel re-bar leftovers from our deck build put to good use here! The shutters are also home-made and once again much cheaper to make than to buy. You can see the flowers barely sticking over the top, and there are flowers filling in that you can't even see. I figured if we were lucky maybe these would grow and fill in, but I never expected what they would turn into.
Below you will see what Rev and SPE has done for my flowers. They are absolutely massive, hardy, and happy. The window box flowers are only planted in about 4" of cheap dirt. I mixed in a few handfuls of SPE prior to planting and the water retention is fantastic. These flowers have gone several days without water on many occasions and they go 10-14 days between feedings. I mix 1 oz of Rev and 1 oz of general purpose plant food per gallon of water every 10-14 days with regular waterings in between. The flowers in the window box are 19" tall!
These flower pots are our temporary solution for our landscaping. We have much more work to do and will be taking out all of the rock and re-doing the edging. We have been contemplating what to plant in the front, but with summer winding down we will be waiting on this part of the project until next spring most likely. For now, at least some light reaches our basement without the overgrown shrubbery in front!