Here is a question for you. What is the best testimonial you can have for a service or product that you provide?
Is it a testimonial provided by yourself after using and researching the product you are representing? Or is it better to have a testimonial provided by someone who is a believer in your type of product, but does not directly represent it? Perhaps even better yet having a skeptic use your product with great results! That is a great way to show that your product works because you managed to make a believer out of someone! All of these are fantastic to have and between us and Dakota themselves, all of these are forms of testimonials that are on hand. However, I have one more type that is overlooked, and is as important as any.
How about having a "testimonial" provided by a person/group that has done research and supports your product without even knowing your product exists? They have NO stake in your product and most likely they have no knowledge that it even exists at all, yet they have an entire website dedicated to research, terms, details, explanations and knowledge that absolutely supports everything your product is, provides, and is all about! That is what we have here. I can't call this direct support or a testimonial for us, because like I said these people do not know about us. Their research was not to support us, it was to raise awareness! The problems happening within the soil are real and are NOT fixed with fertilizers.
A team of 13 University Professors along with several students have put together a website called
SoilQuality.Org
this website is a fantastic resource if you are wondering just exactly what Dakota products are. Follow me for a second as I point out a few things that caught my attention while reading this site...
On this page
CLICK HERE
they list some common problems associated with harvested soils. Along with the problems they list symptoms along with some options for improving soil. Look closely and you will see that one underlying problem is listed under almost every symptom... Low organic matter... So what is their solution? Spreading manure... I know of farmers that do this, but not on a large scale and certainly not in an efficient manner that is going to provide long term benefits... Why? Because manure still has a LONG way to go in terms if decomposition to become Organic Matter... Look at this chart below. I have highlighted the category that Dakota products fall under for your convenience. Make sure you read the "Why it is important" paragraph underneath.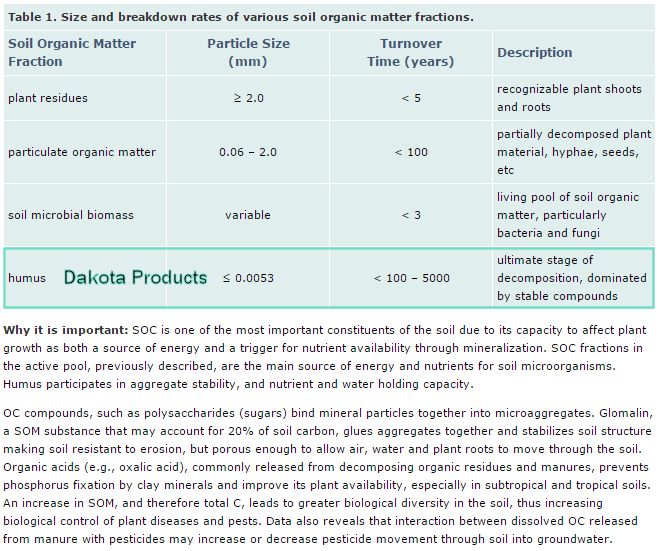 One last point I have to make. Where else you can you find PURE, NON-Extracted, natural organic matter and organic carbon in a form that immediately provides benefits both short and long term to your soil? If you have more than one answer for that, try this one... Where else can you find all of that in form to be applied without adding any cost in labor, time, or fuel? Remember, Dakota Rev is a liquid concentrate made to mix with your current program. For as little as $11.25 per acre you can provide unlimited acreage with the very important soil organic matter and organic carbon that it needs in order to function efficiently at the same time you apply your fertilizer, or mix with water and apply separately.

All credits for the references of this post go to the authors of SoilQuality.Org