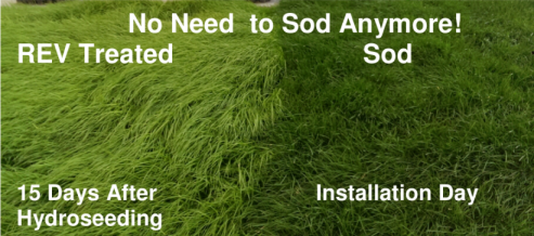 This picture is why many hydroseeding contractors are using REV to improve the quality of their projects. Mixing REV into your formula at a rate of 2.5 gallons per acre provides and incredibly fast and powerful boost to the germination of your grass seed. REV is proven to bring germination from 30% in ten days to 85% in ten days!

Have 100% grass coverage in up to 20 days!

When balancing COST with QUALITY, efficiency is KEY and you can't beat the efficiency that REV provides. The lawns started with REV will also enjoy the long term benefit that 100% ORGANIC MATTER provides and your clients will see a higher quality turf!

---
| | | |
| --- | --- | --- |
| For maximum erosion control you need FAST and COMPLETE coverage of grass. NOTHING can aid in this more completely than REV can. Boosting soil health, stimulating massive root growth, speeding germination and increasing germination rate add up to the best erosion control you can hope for. Oh yeah, and it's FAST. | | The most important part of establishing any lawn is preparation, and hydroseeding is no exception. In order for grass to grow the soil needs to be balanced! REV relieves PH Imbalances with it's NATURALLY neutral levels. Alkalinity and Acidity are not immune to the power of REV even if you have had problems with this in your soil for a long time! |
Contractors: Please contact us for pricing! We look forward to working with you.