02/12/2018 - MORE NEW TESTIMONIALS POSTED
.
CLICK HERE
After a year of testing numerous products, a Chinese group finds their answer with Rev. Below you can see that by treating their fields with Rev and a 1/2 rate of their fertility, the results blew the rest away.
Open this PDF for more details
.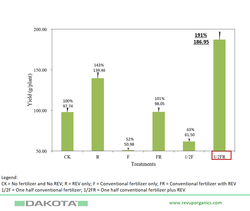 ---
SUGARBEETS

Call or email us to get the best price possible on any Dakota products. We provide a best price guarantee!

We want the opportunity to learn about your growing practices so that we can help you understand just what REV brings to your operation! Education is what we are all about, we enjoy getting to know our growers and making sure that we help them improve!

What can you expect with us is a close connection with the folks at Dakota Inc. With over 20 years of friendship with them, we have a fantastic personal and working relationship with Dakota. That means you'll get your questions answered quickly straight from the horses mouth if we can't answer it for you! Our phones are open and our email is checked often. You will never have to wait long for a response.

We know our products work well. We have personally tested and currently utilize them on our own lawns, houseplants, and gardens! We back our products and will continue to work on spreading knowledge and experience until others are as confident in Dakota products as we are. We will do whatever we can do help you improve your growing results!

We are budget conscious people by nature. We do everything we can to minimize our expenses so that we can pass that savings on to YOU!

Free ACH Bank Transfer Payments
Below Retail Pricing
Occasional Discount Incentives
Free Shipping on bulk purchases
10% Discount for SFA Members
New Independent Rev Trial Results!

The Irrigation Research Foundation performed a detailed study using Rev with Soybeans. Positive results here with more studies currently being conducted! Take note of the weather conditions at the bottom of the PDF. This test endured less than ideal growing conditions. Go to the

Farmer Testimonial Page

to view full document or open the PDF below.

---

---

---

---
"Man became distracted from the importance of organic compound cycling when it was discovered that soluble acidic based N P K "fertilizers" could stimulate plant growth. Large industrial concerns took advantage of the N P K discovery to market industrially processed "fertilizers" from mineral deposit. Continued use of these acidic fertilizers in the absence of adequate humic substances (in the soil) has caused many serious sociological and ecological problems. Man needs to reconsider his approach to fertilization techniques by giving higher priority to soil humus" (Pettit, R. n.d. p 1 para 1).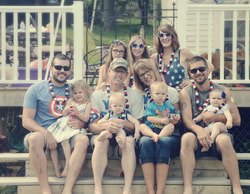 Front (Left to Right) - Cap, Lilly, Doug, Hank, Kristy, Weston, Jordan, Ruby. Back - Isabelle, Emily, Kay
Hello from Doug and Kristy. I grew up on a farm in northwest Kansas growing dry land wheat. We also had a cow/calf operation with about 100 head of cattle.

Kristy is North Dakota girl from Williston. Luckily for me she moved to Kansas for her senior year of high school where we met. Kristy and I have two children, Kay and Cap, whom both have wonderful spouses and they have blessed us with (soon to be) 5 amazing grandchildren. Kristy and I now live in Rochester and work at a large clinic. I became interested in the REV business after my good friend, and part owner of the company that produces REV, Randy Dufault was telling me about the exciting results they were getting with the REV. I trust Randy and his family beyond words and I truly feel lucky to have the chance to introduce REV to the farmers in SE Minnesota.

Cap is the go-getter in spreading the REV word out to as many people as he can. Together with the help of Kay and both of their spouses you can be assured of the best service possible. Please take some time and review the information on our website as well as those that are linked to our website. Give us a call with any questions you may have! Thanks from the G.L.O. Family.