2018 pre-orders are here! Order before 3/31/2018 to take advantage of the 8% Discount - reducing the cost to $9.20/Acre!
What sets REV apart?
REV is NOT an extract.

Dakota REV is not a mixture of chemicals that have been carelessly thrown together. REV is different than tea's and we can't stress that enough. Dakota REV is PURE and NATURAL organic matter made up of numerous humic compounds. REV boasts a neutral PH, stable structure, and is off the charts in terms of beneficial microbes and microorganisms. REV is impossible to copy due to its unique and incredibly high QUALITY organic composition that is only found in the ancient lakebed of Glacial Lake Agassiz.

REV will NEVER compete.

Unlike other soil enhancers and fertilizers, REV is not a nutrient user. REV is already in form to nourish the plant and buffer nutrients to the plant when it needs. Other soil "enhancers" are actually debris until they have decomposed enough to start helping the plant. Until that point they are actually competing with the plant for the nutrients! REV will work faster, harder, and more efficiently.

REV CONTINUES to work.

Dakota REV is FULL of beneficial microbes and organisms. This activity creates an environment in the soil that greatly encourages root development. Thanks to this new environment, the root zone holds nutrients and moisture more effectively. This also means that your soil will continue to be improved even after harvest, setting up for an even better start to your next growing season. REV helps to decompose any debris in the soil, meaning a faster more efficient start to root development once the seed is planted.
REV = Organic Carbon Source + Healthy Microbes + Humic Acid Compounds
Rev has been used in consecutive years as a foliar mix with fungicide applications on corn and soybeans. With the recommended rate of 1 quart per acre, you are applying ~1 pint of solid organic carbon. This carbon is an IMMEDIATE source of food for the base microbes in the soil, and REV also contains an excellent concentration of healthy microbiology. The compounds in Rev DO NOT require time to become usable, so the instant you apply Rev it will fill in and function in the capacities that your soil has failed to do because of a lack of microbiology, compaction, PH imbalance or high concentrations of debris.
Nutrient Availability
Crop fertility has been the focus of Agriculture and crop production forever. What do crops need in order to thrive and achieve the highest yields possible? Which growth stage does the crop need this the most, and when will the application give my crops the biggest boost? These are all very important questions. Rev is not in this discussion, because it is not a nutrient. We all know why PH is important. If you've had a field with a serious PH imbalance, you may also know just how extraordinarily expensive it can be to fix a PH issue. Here is an answer: Find a product that can release nutrients in the soil as if the optimal PH environment is present, even when it's not. No, Rev may not actually change PH physically, or at least that data has not been explored enough to comment on, but Rev will give your soil the ability to buffer the vital nutrients that your crops need, even if the PH of the soil is not in the optimal range. Even better, Rev has a neutral PH, so there is no risk of over applying it causing an overcorrection.

---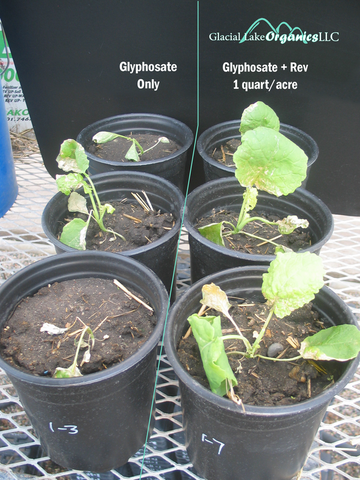 Rev Tank Mixable with Glyphosate : NDSU Study
One of our most common questions from conventional farmers is "Can you mix Rev directly with chemicals like Round-up (glyphosate)?"
To the left you see the harmonious relationship between the chemical and the biology. This is the future and this is why we are so excited about Rev! Agriculture is constantly being split into the "organic vs. conventional" debate and that is not necessary to do. In this day and age for the large scale chemicals play a vital role in agriculture. However, the realization that microbiology and soil health have been overlooked in the past is beginning to raise the need for a fast, high quality, economical and efficient solution. That solution is Rev.
By adding Rev at a rate of no more than 2 quarts per acre you will see positive effects for your crops and no decline in herbicide effectiveness. By adding MORE than 2 quarts Rev per acre you will see a decrease in herbicide effectiveness due to the positive effect of the Rev on the weeds.
NDSU Research
---
---
Our products are all natural, but Rev works exceptionally well in a conventional fertility program. This is due to the adverse effects that long term acidic fertilizers can have on the soil. Rev will immediately provide your seed and soil with extremely high quality usable organic matter. The point of saying "immediately" is important, because other avenues to provide soil with organic matter take time and nutrients to complete the process of decomposition. Our results speak for themselves if the science isn't enough to have you convinced. Give us a call if you are curious, we would love to set you up with a trial!
---
APPLICATION IS EASY!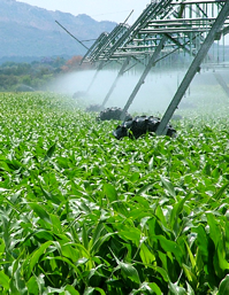 REV is made to work FOR you, not against you. Rev can be applied directly to the seed, in-furrow, or foliar. Sprayer? Pivot? Surface irrigation? REV works with virtually any form of liquid application. Contact us to discuss mixture ratios to maximize efficiency!

---
HOW REV WORKS WITH NUTRIENTS
Retains fertilizer in the root zone
Helps nutrients become plant available
Increases cation exchange capacity (CEC)
Improves buffering properties of soil
Promotes increased Nitrogen efficiency
HOW REV HELPS BIOLOGICALLY
HOW REV IMPROVES SOIL HEALTH
Use the calculator to the left to quickly estimate how many gallons of Dakota Rev you'll need.
For the minimum recommended rate of 1 quart per acre enter the decimal ".25"
Do not enter anything in the Gallons needed box, this will automatically populate.

*Free shipping whenever you buy at least one tote tank or one pallet of 5 Gallon Pails!
WE SHIP EVERYWHERE IN THE U.S.A.