*Please note - this page will not display correctly from mobile devices. Please view on desktop to see all testimonials*
2018 pre-orders are here! Order before 3/31/2018 to get full advantage of the 8% discount - reducing the cost to only $9.20/Acre!
We continue to receive great feedback from farmers! Organic and conventional alike Dakota Rev has something to offer to help improve any situation. If the testimonials below fail to display, feel free to open them using the buttons.
Please visit our page
"A glimpse of the science"
to learn more about why these farmers are seeing such great results with Dakota Rev. You'll also find outside research and support!
2015 DRK Farms
Irrigation Research Foundation Study
"A dramatic difference"
The farmer below used a 50/50 mix of water and Rev to water his collard green plugs while they were sitting in the flats prior to planting. After spraying with the Rev, he did a clean water spray to get any excess Rev from the leaves down to the 1x1x3 inch root balls. Shortly after planting the weather cooled down into the 50's. As you can see, the non-treated plugs (LEFT) remained dormant. The Rev treated plugs (RIGHT) however, were able to actively grow and flourish even through the cooler weather. We will post the official testimonial when it is finished.
"33 Rows"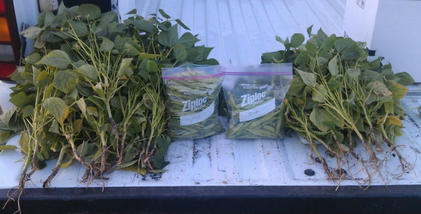 These two sample crops of beans were taken from the same field only 33 rows apart. The ONLY difference between the two is that the crop on the LEFT was treated with 1 quart of Rev in furrow at planting.

Look closely at the roots. The non-treated crop has the roots in tact because the pulled out of the ground. This was not the case on the Rev treated crop because the roots were so much more established, they had to break off.

The Rev treatment produced 106% more plant growth and 92% increase in pod count as well as an increase in the number of plants-per-row!
---