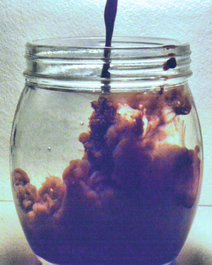 When people think "organic matter" they think that it is all the same. There is a thought that there is no separation by quality when it comes to organic matter. That is not true, in fact when you begin looking into the definition you'll learn that some products you thought to be organic matter are not even organic matter at all! I recommend that everyone seeking information reads this article because it is so full of honest and complete information. I will outline it to show you just where our Dakota products fit in to the picture.
All research and definitions on this page have been cited from various sources. I tried to interpret most of the information and translate it into my own words, however there are direct quotes from these other sources in the paragraphs below.
To begin, Soil Organic Matter (SOM) is defined by the
Soil Science Society of America
as the organic fraction of soil after removing undecayed plant and animal residues. However, this definition is one of many variations available for debate. One of my favorite quotes that I have read is the statement, "Soil Organic Matter has been called the most complex and least understood components of soil." This is in the link to the left labeled U of MN Support. To me this statement becomes clearer every day. What some people label as "organic matter" should actually be labeled "organic debris" as it is still going to use certain nutrients in the soil to further decompose. This can cause imbalances which fail to optimize the soil for nurturing the crop roots.
---
| | |
| --- | --- |
| | We are in the never ending process of researching and learning. The more we understand about the issues facing our generation and future generations when it comes to soil management and crop production the more we can help. We are passionate about the benefits of our products not because we provide them; rather we provide these products because we are passionate about their benefits. In this journey of learning we have uncovered some incredible articles that helped us to understand more about our own products and why they work. To say that we have learned a lot is an understatement. On the other hand to say that we still have a lot to learn is an even bigger understatement. |
| | |
| --- | --- |
| CEC is basically the soils capacity to receive and store nutrients, however when researching this topic you'll understand that it is much more scientific than that in terms of definition. In terms of agriculture, CEC is important because it determines how much fertilizer you may place in the soil without wasting your money. If your soil only has the capacity to hold about 120 pounds of N per acre at one time, then any excess you put down will go to waste and be lost to leeching. This of course has multiple ramifications not only on your profits, but on the environment. | CEC is directly affected by the concentration of SOM in the soil. Dakota Rev is the ultimate product to raise the CEC of your soil, therefore raising the yield potential of your crop planning. There is no other way to apply stable, homogeneous, pure organic matter to your soil in such an efficient way. Mix Dakota Rev into your fertilization program and apply it evenly to every acre you treat… That is as simple as you can get. |
Homogeneous: consisting of parts all of the same kind.

Dakota products are uniform and consistent. You will not have to adjust each application to different composition or HOPE that this batch is not toxic like you do with composts and some teas. You know what you are going to get every single time, and that will never change. You will get perfectly even coverage and all portions of the treated field will receive uniform and consistent biology meaning uniform and consistent growth for your crops.



Heterogeneous: diverse in character or content.

Other forms of "organic matter" (many are debris) are heterogeneous. This means that not only will the products vary from batch to batch or application to application, but even as you are applying it, your fields will be treated unevenly. As this heterogeneous mixture is dispersed, it will deteriorate at different rates and cause different reactions in different portions of the field. This is not uniform, and it is not efficient.

When talking about crops, seeding, fertilizing and eventually harvest, the main focus is POTENTIAL. Let's just say that the weather and conditions were optimal for the entire growing season. If all soils had the same potential and had the same conditions for growing, then every field would come up with the same harvest results. This is not how it works! From region to region and even county to county harvest results vary drastically. That is because not all soil has the same potential! By applying Dakota Rev you are raising the potential for your soil by increasing the soils ability to store and buffer nutrients to your crops. Dakota Rev will stimulate the soil environment and rev up beneficial activity that optimizes the root zone for growth. Rev will build soil structure which leads to increased resistance to erosion and compaction. Aeration increases and the soil biology will become more efficient in its processes and reactions. All of this stems from the application of QUALITY organic matter that is meant for instant action with long term benefits.