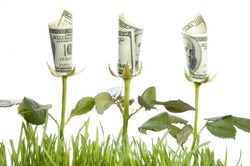 We've all heard the saying, "Money doesn't grow on trees!" at some point in our lives. It was most likely being said to us by someone that cares for us in one situation or another. While this saying is obviously true in the literal sense, it is quite false in the figurative sense. For farmers, professional gardeners, greenhouse owners and anyone else that depends on growing and harvesting goods; that saying could not be further from the truth. A growers livelihood depends on the successful harvest of their plants or crops! This is where the title of this blog post comes into play. Risk vs. Reward... yet another familiar idiom that I am sure we have all heard at one point or another.

No matter what type of person you are, as a grower your only goal for next year is a BETTER HARVEST... I can tell you why... Not because the fields look prettier when they are fuller and healthier (though this is true)... Certainly not because harvest is any easier when there is more crop to collect... Not because it just feels warm and fuzzy having a "positive" year... There is one reason that ALL growers strive for a better harvest, and that is because their well being, and the well being of their families depends on it. That is an honorable reason in my humble opinion.

Now, if you have read this post, I urge you to do some research on our products... Why? Because, for a small "risk" you have the potential for great "reward". How much does it cost if you just want to TRY Dakota Rev to see for yourself just how it will impact your well being? Only $250.00 will get you enough Dakota Rev for a 20 acre test run delivered to your door. There have been plenty that have done this in the past... and there have been plenty that were upset they didn't just apply it to everything right off the bat. Do you want an even smaller trial? Give us a call. We would be happy to talk with you and work out a solution that fits your needs. If there is one point I can't stress enough, it is that we are in this business to bring people solutions. We strive to be knowledgeable, genuine, and work in the best interest of PEOPLE. If you are on the fence about how to improve your harvest, please give us a call. We'd appreciate the opportunity to get to know you.


Thanks, from Doug and Cap at Glacial Lake Organics L.L.C.